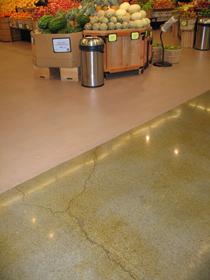 Epoxy flooring with colored quartz (top); polished concrete flooring with decorative stain
Welcome to Toughstuff Industrial Floors website. This website is designed with the purpose of informing customers about the special concrete finishes and services that Toughstuff provides.

Toughstuff Industrial Floors was founded in Portland, Oregon in 1977; specializing in industrial grade epoxy flooring and coatings. Since that time, Toughstuff has evolved into a full service flooring contractor specializing in a variety of sustainable concrete finishes and surface preparation services. In addition to industrial flooring and coatings, Toughstuff specializes in: decorative stained concrete, resurfacing damaged or out of level concrete with cement overlays and toppings, polished concrete flooring, general concrete cleaning and repair, surface preparation via diamond grinding and shot blasting, floor coverings demolition and removal, concrete countertops and sinks, and more...

Toughstuff is proud of the reputation that we've built as being an honest, hard working staff and crew that customers can depend on to ensure that the products and services we provide are implemented correctly with attention to quality and detail and done in a timely manner. This reputation has served us well, as a very high percentage of our business consists of repeat customers and word-of-mouth referrals. We feel fortunate and proud to have established working relationships with some of the most recognizable and successful general contractors, commercial markets, leaders of industry in the Pacific Northwest and beyond, and the many residential customers who have allowed us to work on their homes.

Decorative stained concrete

We'd like to invite you to visit the other pages on this site, where you will find more detailed descriptions of the coatings, special concrete finishes and the other services we offer. There are photo galleries, color charts, product links and data sheets to assist you in choosing the correct products, colors, and services to make your project a success.

Toughstuff Industrial Floors is available by phone to answer any of your questions. The main office telephone number is (503)466-2902. Office hours are Monday-Friday 8AM-5PM, Pacific Daylight Time; after hours please leave a message. We are happy to provide free estimates and price quotes to you for your projects. Please visit the Contact Us page if you'd like to send us an email.

Please check back often as pages, photos, products, and information will be updated regularly to best serve customers.

Toughstuff Industrial Floors is currently licensed, bonded, and insured in Oregon and Washington.





Polished concrete flooring

Concrete countertops & sinks
Serving Portland, Oregon and the entire Pacific Northwest
Toughstuff Industrial Floors;
PO Box 52, Beaverton OR 97075
Tel: (503)466-2902 FAX: (503)690-9878
Oregon CCB# 84841 - Washington Contractor# TOUGHIF080MU
Contact Us

Web Hosting powered by Network Solutions®